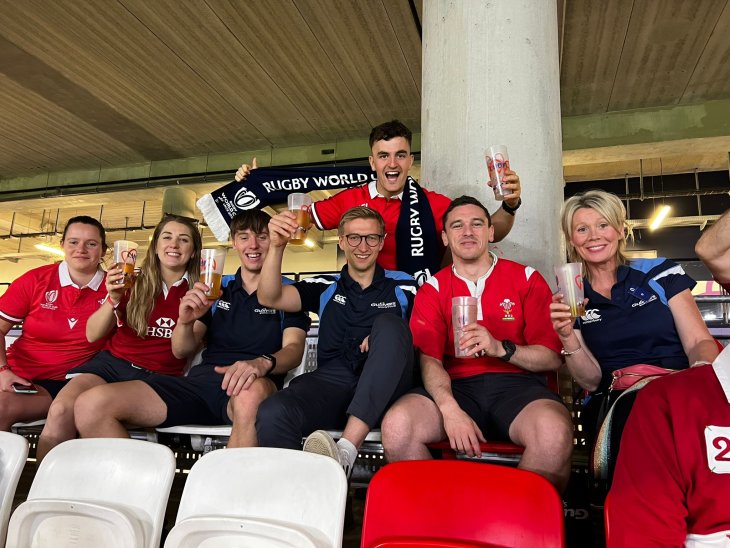 Who are you/ your role:
Ollie Potts – Sales Executive
Your trip (Matches, Date & City):
22nd – 25th September, Wales v Australia - Lyon
The Trip
Wales vs Australia in Lyon was a thrilling experience. With the roar of the crowd to the songs that we sang, this tour was nothing short of fantastic rugby, great food and making special memories.
After an early start we made our way to Cardiff Airport to catch our Chartered flight to Lyon, the travel time was around 1:30 hours, but time flew by with some drinks and good chat about what the weekend had in store.
Once everyone had arrived, we had some time to explore Lyon, so we hopped on the tram and headed to the city centre for some lunch. The first evening gave us a good taste of what Lyon had to offer and prepared us for the great rugby ahead.
Sunday soon rolled around, game day, and the nerves started to gather. The Clubhouse was underway, and conversations were flowing. The Clubhouse event is an opportunity to meet other like-minded rugby fans and enjoy a few drinks! The atmosphere at the clubhouse as we got closer and closer to kick off, the floods of red passed by, and the anticipation of a highly entertaining rugby game had everyone on the edge of their seats at the whistle. The national anthems began, and tensions were rising. It was set up for an exciting first half of rugby. As Wales came out on top at the end of the game while also gaining the first spot of Pool C, the atmosphere was not one to miss.
Everyone jumped back onto the coach for one final night in Lyon, the game was a great way to end a fantastic weekend, plenty of smiles all round and some great memories made.
A well-deserved final meal with drinks flowing was on the cards before the flight home Monday afternoon to draw the curtains on another Wales Victory.
Make sure you don't miss any of our latest content, news, offers and more! 
Sign up to our newsletter here.