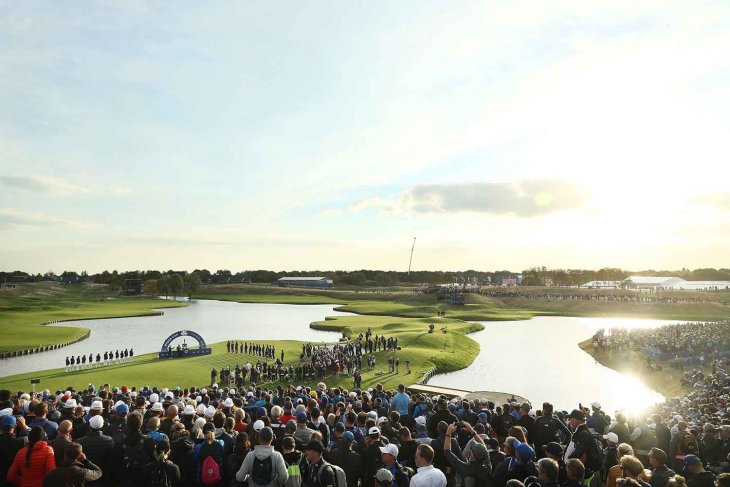 The 42nd Ryder Cup starts this week (September 28th-30th) and will be certain to make history.
Never before has the sport's biggest team event come to France, but this time all American and European golf fans will either be watching by the fairways or on the TV as the biannual transatlantic tournament is held at Le Golf National near Paris. It will be an exciting and novel experience for players and spectators alike.
Of course, before 1979 a Ryder Cup in France was inconceivable, as it was only a joint British and Irish side who played against the USA; a mismatch that ensured the Americans usually won. In more recent times, however, Europe has dominated; when they won 16 ½ to 11 ½ at Gleneagles in 2014, it was the sixth time out of seven that they had triumphed. At that time, some people were seriously suggesting it might be the turn of the US to join forces with someone else, in order to give Europe a proper contest.
Such thoughts are hard to imagine now. Not only did the Americans win the cup back 17-11 at Hazeltine two years ago, but their players have been dominating the majors, winning three out of four in both 2017 and this year. With the likes of Brooks Koepke, Jordan Speith and Justin Thomas in the side, this is an immensely talented American team and they are firm favourites to secure their first Ryder Cup victory on this side of the Atlantic since 1993.
To add to the lustre of the US team, Tiger Woods is back. A year ago, it looked as if a severe spinal injury could end his career. However, not only is he back playing, but doing so at a highly competitive level. Chosen by team captain Jim Furyk as one of his four wildcards for the event, Woods ensured Tigermania will be at fever pitch by securing his first tournament win in five years as he triumphed at the season-ending tour championship.
"Not that this event needs more energy, it is probably the biggest, the grandest event in golf, but [Woods' win] will add excitement I believe," said Furyk, stating the extremely obvious.
The strength of the American outfit has been acknowledged by Europe's captain Thomas Bjorn, who remarked: "We know this is one of the strongest American teams of all time and we have to play our best."
Such talk is not defeatest, but realistic. Even so, Europe does have some hope of standing in the way of the American juggernaut and not simply being crushed.
First and foremost, Justin Rose has finished the season as FedEx Cup winner, the leading player on the PGA tour. He is the first Englishman to achieve the honour and his status is a feather in the European cap.
A man every European will look to is Ian Poulter, a player whose record in majors is modest but who responds to being in the Ryder Cup like Clark Kent does to entering a telephone box. He was a notable absence in Hazeltine and it is no surprise he was one of Bjorn's captain's picks.
It certainly promises to be a memorable few days, and if Europe can regain the trophy against this formidable American team, it could go down as their greatest victory of all.